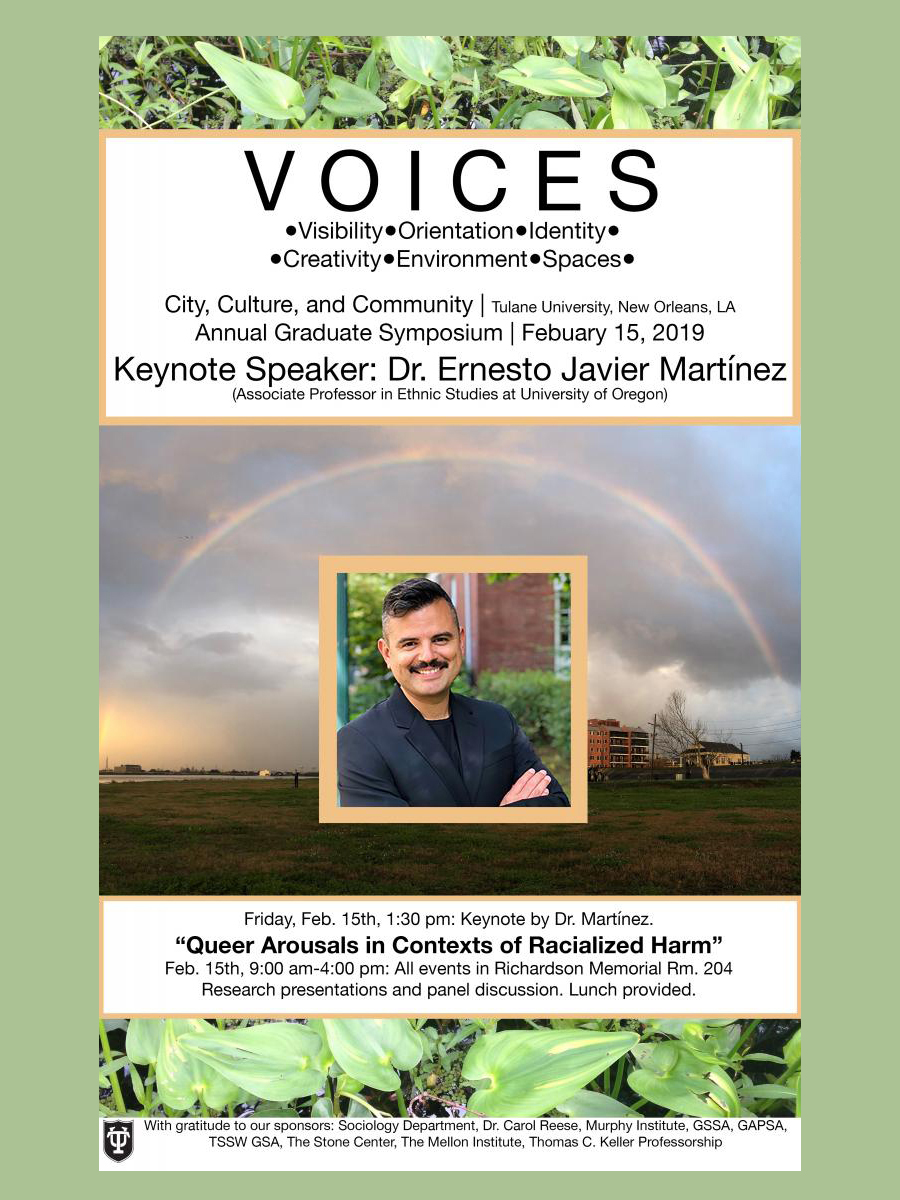 Voices: Visibility + Orientation + Identity + Creativity + Environment + Spaces
Themes and Topics:
The 2019 symposium, VOICES: Visibility, Orientation, Identity, Creativity, Environment, Spaces, seeks to understand creative approaches to how inequalities are negotiated: socially, culturally, and institutionally. The symposium focuses on research that explores creative approaches to agency, institutional organization, and cultural production and consumption within complex social systems. What are the current issues facing our communities, institutions, and cities? How can we be creative and inclusive in our approach? This symposium intends to create an interdisciplinary space that can bring together scholars, practitioners, students, and community members to engage across lines and extend current conversations around agency, resilience, and social justice across the globe.
Program:
Keynote Speaker Dr. Ernesto Javier Martínez
"Queer Arousals in Contexts of Racialized Harm"
In his keynote address "Queer Arousals in Contexts of Racialized Harm," Dr. Ernesto Javier Martinez conducts an intersectional analysis of the ways that queer men of color negotiate epistemic injustice through the creation and consumption of film, literature, and art. His research interests include queer ethnic studies, women of color feminisms, US Latinx literature and culture, and literary theory. He is the author of "On Making Sense: Queer Race Narratives of Intelligibility" (Stanford UP, 2012) and "The Truly Diverse Faculty: New Dialogues in American Higher Education" (Palgrave, 2014).
Along with his academic achievements, Dr. Martinez also writes bilingual Latinx children'??s books, produces films (La Sarentata, 2017), and serves as a board member for the Association for Jotería Arts, Activism, and Scholarship (AJAAS), a queer Latinx grassroots organization dedicated to producing art and analyzing culture and politics in the context of activism.
Presenters:
Emily Starr (Tulane University CCC): "Rebel Workers: Informal Economies and the Negotiation of Identity through Tending Bar"
Kelly Spivey (University of Mississippi): "Girls in the Kitchen"
Chloe Tucker (Tulane University CCC): "University-Community Partnerships after Disaster"
Jarrod Wall (Tulane University CCC): "College in prison: a brief history with a look into cost of living, enrollment, and retention"
Jessica L Liddell (Tulane University CCC): "Land Loss, Climate Change, and Environmental Justice among Native Americans in southeastern Louisiana"
Sean Fader: "Queer Images"
Siobhan Deering (University of Central Florida): "Drag as… An Interdisciplinary Look at Drag Queens"
Lucy Satzewich (Tulane University CCC): "Gay, Drunk, High, Poor: Drawing the Ecology of Queer Displacement"
Panel discussion (Dr. Martínez, Dr. Samantha Francois, Dr. Joan Blakey, Sienna Abdulahad, and Dr. Amalia Leguizamón)