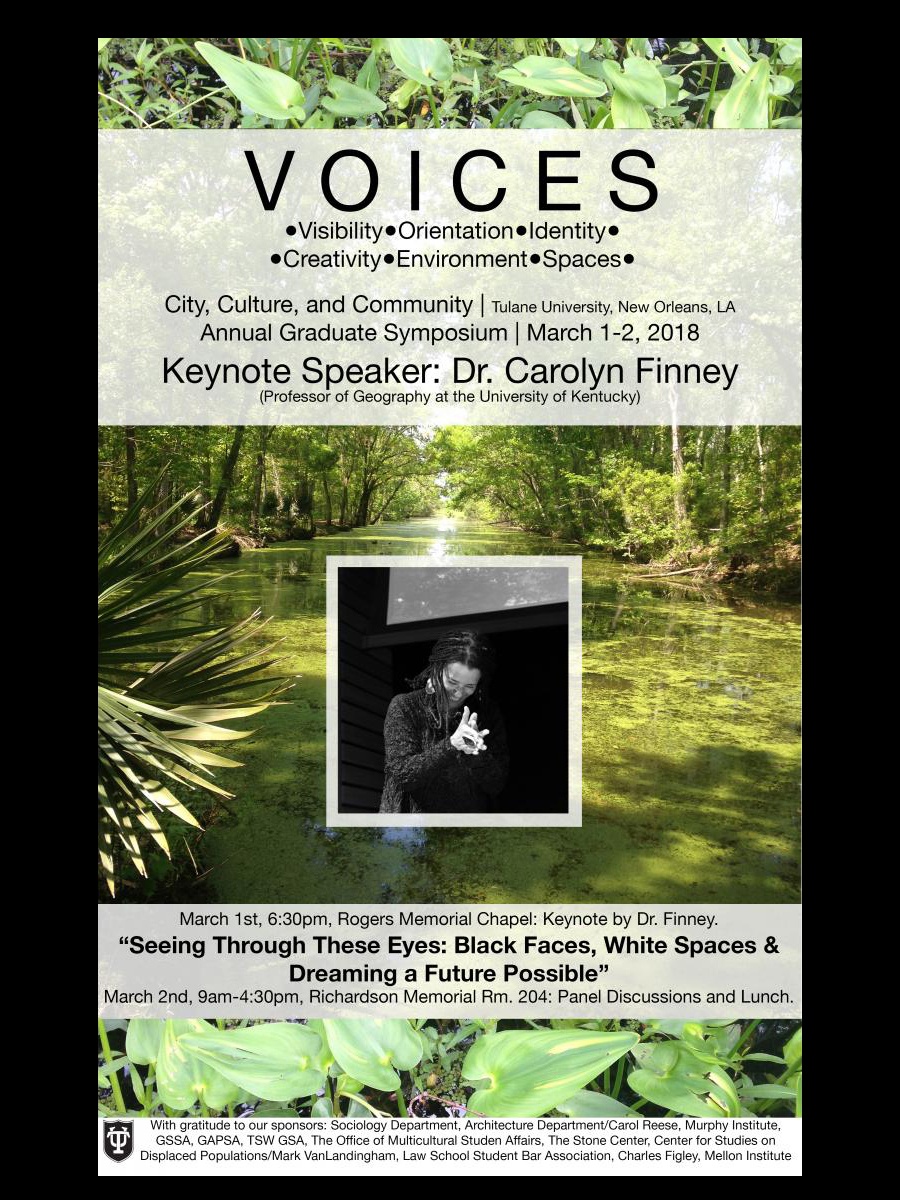 Voices: Visibility + Orientation + Identity + Creativity + Environment + Spaces
Themes and Topics:
This year's symposium seeks to understand creative approaches to agency within complex social systems. Who can/cannot affect change and why? What are the current issues facing our communities and cities? How can we be creative and inclusive in our approach? We are interested in how scholars frame these questions in regards to the natural and built environment, community engagement, and civic implications. This symposium invites scholars to present work from a variety of disciplines, perspectives, theoretical frameworks, and methodologies.
As the academy continues to evolve, interdisciplinarity proves more and more a necessity. We intend to create an interdisciplinary space that can bring together scholars, practitioners, students, and community members to engage across lines and extend current conversations around agency, resilience, and social justice across the globe.
Program:
March 1
Keynote Speaker Dr. Carolyn Finney (University of Kentucky)
"Seeing Through these Eyes: Black Faces, White Spaces, & Dreaming a Future Possible"
Carolyn Finney, Ph.D. is a writer, performer and cultural geographer. As a professor in Geography at the University of Kentucky, she is deeply interested in issues related to identity, difference, creativity, and resilience. In particular, she explores how issues of difference impacts participation in decision-making processes designed to address environmental issues.
More broadly she likes to trouble our theoretical and methodological edges that shape knowledge production and determine whose knowledge counts. Carolyn is grounded in both artistic and intellectual ways of knowing - she pursued an acting career for eleven years, but a backpacking trip around the world and living in Nepal changed the course of her life.
March 2
Witnessing Inequalities and Discrimination
Introduction: Antanious White (Tulane University CCC)
Moderator: Dr. Michael Cunningham
American Indian (AI) and Alaskan Native (AN) persons experience pervasive health disparities in comparison with the general US population. For example, cancer is the leading cause of death among AI/AN women, who experience this disease at 1.6 times the rate of whites (Espey et al., 2014). These cancer disparities are alarming, especially given that the Treaty Agreements between the United States and the 567 federal sovereign tribes include a trust responsibility to provide for the health and wellbeing of AI/AN people (Bureau of Indian Affairs, 2017; U.S. Commission on Civil Rights, 2004). As noted by Walters and Simoni (2002) the health problems of AI women are uniquely impacted by the history of colonization and continuing poverty and discrimination. AI women are also vulnerable to the views of medical practitioners and researchers who often pathologize their well-being and perpetuate a paternalistic view of healthcare (Walters & Simoni, 2002). Furthermore, researchers, and public health and social workers have frequently contributed to the exploitation of AI women, making an analysis of these relationships necessary (S. R. Brown et al., 2015; Cochran et al., 2008; Gurr, 2014; Minkler, Blackwell, Thompson, & Tamir, 2003; Smith, 2012). Despite extensive documentation of these continuing health inequalities, little research examines how interactions with the healthcare system may influence and exacerbate these health disparities. The purpose of the study was to understand the experiences of AI women who receive cancer treatment, which is integral to the eventual eradication of AI cancer disparities among women.
Discrimination on the basis of criminal history is widely documented in the areas of employment, housing, and access to services (Pager 2007; Oyama 2009; Sugie 2017). Less discussed are the barriers that people with convictions face in higher education. Higher education has been shown to reduce recidivism by as much as 40%, yet in 2017, 70% of colleges in Louisiana asked applicants to disclose their criminal history on initial applications. While this practice is widely used, little is known about the link between criminal history admissions considerations and campus crime. This study explores the relationship between considering criminal history on college applications and campus crime rates in Louisiana. The research questions were as follows: (1) does asking the question on the college admissions application impact crime rates on campuses in Louisiana? (Are campuses that ask the question more "safe"?) and (2) what other factors are related to crime rates on Louisiana college campuses?
Heir property is one of the leading causes of persistent poverty and land loss in African American communities. By 1920 African Americans owned approximately 16 million acres of land; in 1990s land owned by African American declined by 88%, i.e. less than 2 million acres. Traditionally African American landowners have not written wills, which creates complex issues once the owner dies. When a person dies intestate succession, e.g. without a legal will, the state determines who the legal heir are hence the term "heir property." As one generation gives way to the next, it becomes increasingly difficult to identify heirs. For African Americans heir property has resulted in the land loss, economic instability (especially in the rural South), lack of political representation, and lack of community development. The clouded title associated with heir property prevents the land from being used as collateral as well as ineligible for home loans, government and farm programs aimed to help landowners improve the value of their land. How much heir property is located in Wilcox County, Alabama? What is the economic value of heir property? Is heir property an issue in Gee's Bend due to its involvement with the resettlement administration?
In elementary art education representations of female artists are largely omitted, minimized, or distorted to fit the master narrative prioritizing the stories of white males (Acuff, 2002; Knight, 2015). Inclusion is often limited to cursory examinations reaffirming and fetishizing difference. In early childhood education there is also a lack of literature and research that explores and/or sophisticatedly articulates the dynamism of girlhood. There is a shortage of work that positions young girls of color as resilient, powerful and as having cultural capital. Through visual art we explore what intersectional feminism can look like in the capacity of early childhood and art education settings specifically with girls. What impact does a lack of visual representation in elementary curriculum and children's literature have on girls, specifically girls of color? How can visual art be used to explore the dynamic possibilities inherent in girlhood and foster healthy identity formation? We address these questions through 2 discourse analyses in art education and early childhood education in order to explore the possibilities apparent when we center the voices and stories of girls in education.
Jessica Liddell (Tulane University CCC): "Healthcare Experiences of American Indian Women with Cancer: Barriers and Supports to Receiving Care"
Annie Freitas (Tulane University CCC): "Should It Even Be a Question? Criminal History Admissions Considerations and Campus Crime in Louisiana"
James Harold Patterson III (Auburn University): "Heir Property in the South: A Case Study of a Resettlement Community"
Maureen Nicol and Beth Link (University of Texas at Austin): "At the Intersection of Art and Girlhood. Fostering Dynamic Girls Through Art and Feminism"
Place and Community
Introduction: Natalie Blaustone-Dye (Tulane University CCC)
Moderator: Dr. Michele Adams
The 2010 Deepwater Horizon Oil Spill (DWH) was one of the largest hydrocarbon disasters in US history. The 4.9 million barrels of oil that poured into the Gulf of Mexico impacted the natural environment, as well as the lives of individuals and communities residing along the coastal region. While these communities share a common experience through their connection to the Gulf of Mexico, they vary demographically and socioeconomically. This paper explores place-based predictors of individual resilience among people exposed to disaster, presenting findings from a recently completed disaster preparedness and resilience study from three Gulf Coast communities impacted by the DWH Oil Spill.
Cities serve diverse communities, economic interests, and fragile environmental systems. These groups are often at odds with one another and it is the job of the planner to "negotiate fears and anxieties, mediate memories and hopes, and facilitate change and transformation" between differences (Sandercock, 2000, pg. 29). To better understand how to manage these differences, this study will test a visceral approach to analyze the relationship between physical social spaces, and how people using the spaces feel internally, i.e. sensations, moods, physical states of being. Visceral methodologies allow planners to use embodied practices to collect data concerning feelings and emotions, which can give depth and clarity to socio-spatial issues (Sweet & Ortiz Escalante, 2015). Utilizing visceral methodologies, this study investigates how the public feels, perceives, and uses spaces that Imagine Austin has deemed as Neighborhood Centers.
Our presentation features work in progress that examines and interprets intergenerational changes in leadership underway in New Orleans' Vietnamese community. We begin by summarizing key features of the current leadership structure in this community; and by comparing and contrasting these features with those of other Vietnamese communities in the U.S. Second, we briefly discuss what is known about leadership transitions from first to second generations in other (more longstanding) ethnic enclaves in the U.S. Third, we develop and present a model of leadership transition that will help us to predict and explain changes in leadership within this community as well as some major consequences of these changes with regard to VOICES, especially visibility and ethnic identity. Fourth and finally, we present plans for our empirical work that will provide the basis of our future analyses and interpretations.
Megha Patel (Tulane University CCC): "The Role of Place in Predicting Individual Resilience: Lessons from the Deepwater Horizon Oil Spill"
Kayla Rakes (University of Texas at Austin): "Belonging, Place, and Safety: A Visceral Study of Neighborhood Centers in Austin, TX"
Huyen Bui (Tulane School of Social Work), Mark VanLandingham (Director Tulane Center for Studies of Displaced Populations), Carl Bankston (Tulane University Professor of Sociology): "Changing of the guard and changes in VOICES: How the intergenerational leadership transition underway in New Orleans' Vietnamese communities reflects and affects ethnic identity"
HIV Treatment and Prevention Initiatives
Introduction: Dustin Robertson (Tulane University CCC)
Moderator: Dr. William Robinson
Amanda Zimmerman (Tulane University School of Public Health and Tropical Medicine): "Critical Review of the Literature (Intro)"
Abhi Talajia (Tulane University School of Public Health and Tropical Medicine): "PrEP utilization/adherence among MSM (1506/1509 or NHBS)"
Erin Biggs (LSU School of Public Health): "Provider Prescribing of PrEP/nPEP (Reach Study and/or LAGAP)"
Tsion Girmay (LSU School of Public Health): "PrEP Utilization among High Risk Heterosexuals and IVDU (NHBS)"
Chris Adkins (Tulane CCC): "Improving service delivery for HIV treatment and prevention (CDC 1506-09)"
Action in Cities
Introduction: Megan Faust (Tulane University CCC)
Moderator: Dr. Pamela Neumann
This paper is based on data and analysis generated in my dissertation research, which explores the connection between what local actors involved in collective contentious public action know and do (called public action know-how) in their pursuit of social justice goals in New Orleans. The research was born out of my own praxis in community development and organizing (as a former community-based nonprofit professional), as well as from collaborative work with the Tulane Center for Public Service (CPS) that seeks to advance the civic growth and effectiveness of the New Orleans community-based organizations they support. The main research question in this paper asks what know-how community-based actors understand and show in their contentious public action activities that result in desired outcomes when pursuing social justice changes in New Orleans. In social movement research, structural analysis of contentious politics and their outcomes typically focuses on institutional and macro level structures, such as organizational resources, political climate, and political processes. Cultural analysis, on the other hand, typically explores actors' emotional and cultural factors in contentious politics at the expense of larger macro-level factors. In both types of analysis, little attention is paid to what actors actually know how to do, the know-how, of collective political contention. Knowing from praxis that what one knows, and how one deploys what one knows, can affect success or failure, this paper aims to bring more scholarly attention to the role of know-how in collective contentious politics.
Following a disaster, it is expected that Federal and Local governments will be there to restore and take on the enormous challenge of rebuilding the whole infrastructure of entire communities, but is this sustainable? Can we expect that Federal resources will continue to aid vulnerable areas and to deal with the issues of long term recovery and preparedness from natural disasters? Or must we be self-sufficient and resilient as communities to recover and restore the perceived gap between humanitarian relief, and the focused efforts on reconstruction and the longer-term rehabilitation of affected households and communities. Can we also ask if communities can be resilient if they are forced to be self-sufficient? Cities want to lead the movement for integrated water management systems and this paper describes how a cluster approach could do just that for New Orleans.
Birmingham Alabama has be ruled by a coalition of black elites and white corporations since Richard Arrington was elected mayor in 1979. The result has been the growth of profits for white corporations and deteriorating conditions in black neighborhoods. The Arrington coalition was partially displaced by the Randall Woodfin win, and win driven heavily by grassroots activism that received no support from the business community. This presentation reveals the 8+ year strategy that enabled this victory.
Lucas Diaz (Tulane CCC): "Local Actors' Know How in Social Justice Change Work"
Claire Bourseleth (Tulane Disaster Resilience Leadership Academy): "Water Management Cluster for Resiliency"
Zac Henson (UC Berkeley/Cooperative New School for Urban Studies and Environmental Justice): "How to Take Over a City: The Strategy and Tactics Behind Randall Woodfin's Historic Win in Birmingham Mayoral Race"