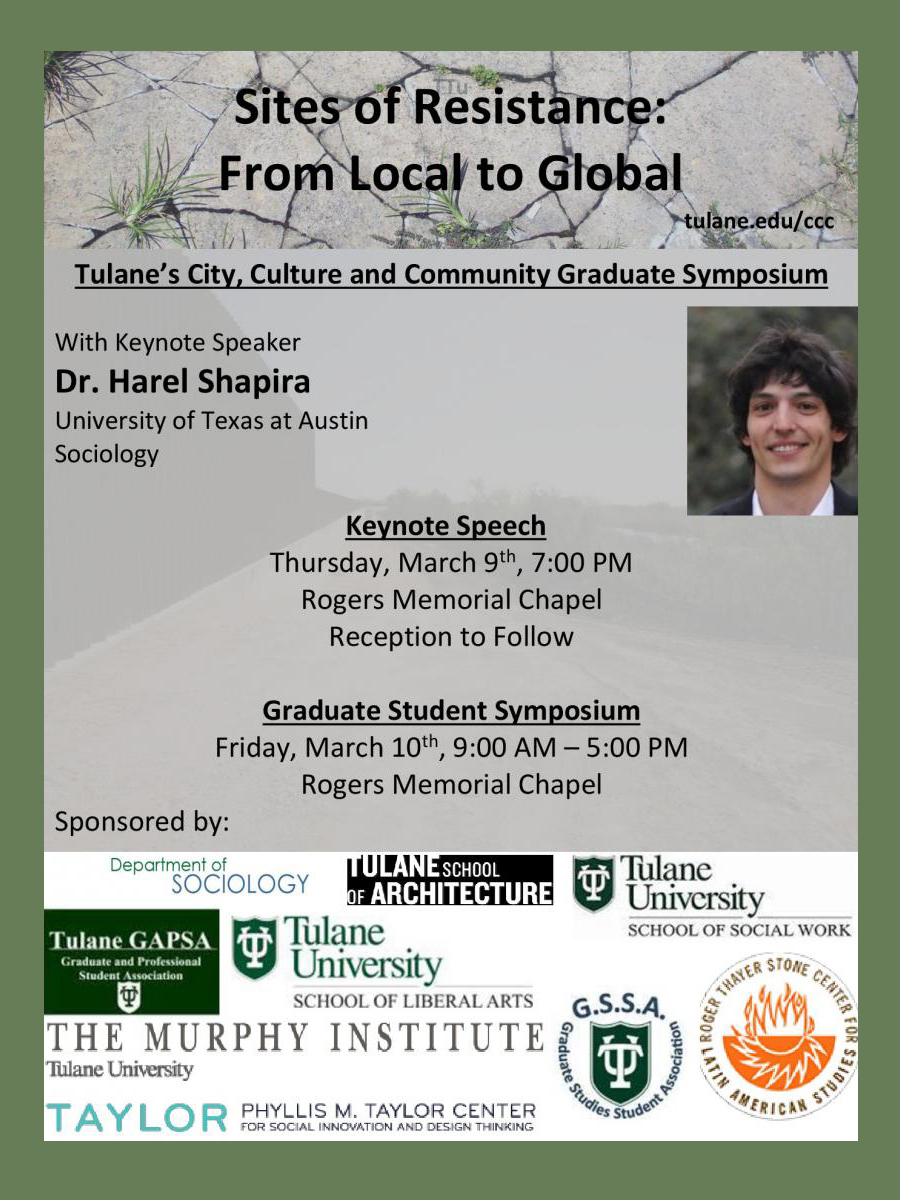 Sites of Resistance: From Local to Global—March 9-10
Themes and Topics
This year's symposium seeks to understand sites of resistance in a global context. This symposium invites scholars to present their work from a variety of perspectives, theoretical frameworks, and methodologies. We are interested in how scholars frame issues related to the following themes:
Resistant Identities
This area focuses on identity-based or culturally-based acts of resistance and resistant ways of being, such as but not limited to: politicized identity construction, subversive and critical positionality, individual acts of resistance, resistance to hegemonic norms.
Resistant Communities
This area focuses on collective acts of resistance, such as but not limited to: local to global social movements, community organizing, online and media-based activism, human rights and restorative justice.
Resistant Spaces
This area focuses on the spaces in which acts of resistance take place, such as but not limited to: the built environment, public spaces of resistance, contexts of resistant activity, physical and environmental factors of resistance.
Program
March 9
Keynote Speaker Dr. Harel Shapira (Assistant Professor of Sociology at University of Texas at Austin)
"The Culture of Justifiable Violence in America"
Dr. Harel Shapira is an Assistant Professor in the Department of Sociology at the University of Texas at Austin. Shapira is an ethnographer who uses long-term participant observation in order to study political life in contemporary America, with an emphasis on right wing politics. He is the author of Waiting for José: The Minutemen's Pursuit of America (Princeton University Press), which explores the civilians who patrol the United States / Mexico border.
He is currently writing a book on gun owners that explores how the notion of self-defense is deeply connected to group identity. Through fieldwork at gun schools, Shapira considers how people train their minds and bodies to use guns, and what such an education means for the future of American democracy. His previous research has been funded by the National Science Foundation as well as the Harry Frank Guggenheim Foundation. Harel Shapira earned his Ph.D. and Master of Arts degrees in Sociology from Columbia University, and a Bachelor of Arts degree from the University of Chicago where he majored in Sociology and learned the beautiful art of fly-fishing.
March 10
Identities
Moderator: Professor Vicki Mayer
Joseph Wade Smith (University of North Carolina Charlotte): "Location Preferences of Gay and Lesbian Couples"
Kathleen Broussard (University of Texas at Austin): "Pushing for Change: Homebirth and Formal Healthcare Resistance in the United States"
Michelle Mott (University of Texas at Austin): "Somos Vista: Class and Belonging in a Gentrifying Public School"
Annika Lindberg & Lisa Marie Borrelli (University of Bern, Switzerland): "Let the Right One In? On European Immigration Authorities' Resistance to Research"
Communities
Moderator: Professor Laura McKinney
Ezra Spira-Cohen (Tulane University): "Theorizing the MST and Social Mobilization: Transcending the Structure vs. Culture Debate and Expanding the Civil Sphere"
Alice Deters (University of Alabama): "Developing Children and Developing Communities: The Child Development Group of Mississippi"
Betsy Lopez (Tulane University): "Bolstering Resiliency Action in Disaster Mitigation"
Wesley Cheek (Tulane University): "Reconstruction as Resistance: Community After Disaster in Minamisanriku, Japan"
Spaces I
Moderator: Professor Michele Adams
Jeta Mulaj (DePaul University): "Direct Action and Institutional Resistance"
Monica Clark (Colorado State University): "Sites of Resistance: Urban and Community Gardening"
Arianna King (Tulane University): "Growing, Cooking, and Selling: An Analysis of Food Practice and the Gendering of Markets in Urban Ghana"
Spaces II
Moderator: Professor Carol Reese
Eugenia Rainey (Tulane University): "La Regla de Ocha and Health: Subaltern Navigation of Space in a South Florida Hospital"
Rosa Herrin (University of New Orleans): "Latinx Urbanism in New Orleans"
Dustin Robertson (Tulane University CCC): "Bayou St. John - An Ideal Contact Space"
Wells Megalli (Tulane University): "This Studio Has Been Liberated"
Special Guest Panel: "Ethnographies and Time"
Moderator: Professor Harel Shapira
Alejandro Marquez (University of Texas Austin): "What does it mean to go into the field?"
Riad Azar (University of Texas at Austin): "Late Nights on Brick Lane"
Alejandro Ponce de Leon (University of Texas at Austin): "Affective Geographies Amidst a Civil War: How to Account for a Space That No Longer Exists"