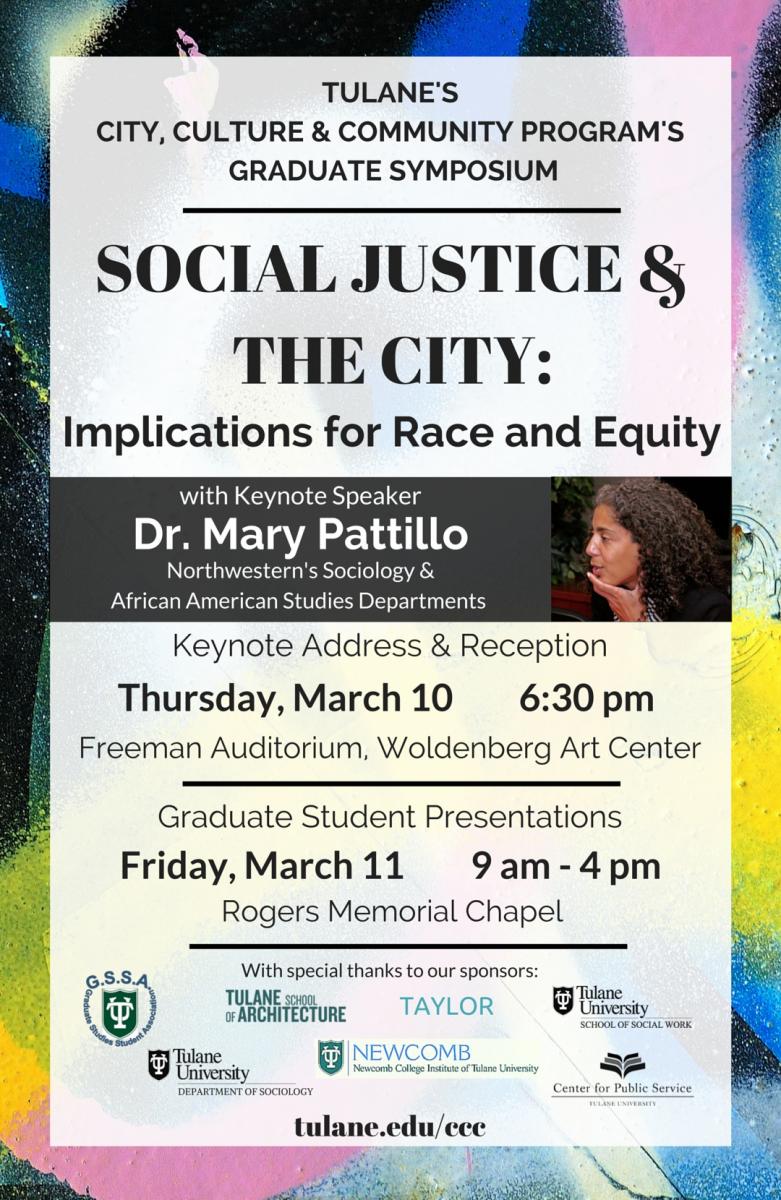 Social Justice & The City
March 5
Program
March 10
Keynote Speaker Dr. Mary Pattillo (Harold Washington Professor of Sociology and African American Studies, Faculty Affiliate at the Institute for Policy Research, Northwestern University)
"Urban School Systems: Where Do We Go from Here?"
Dr. Mary Pattillo will be joining us from Northwestern University, where she is a Harold Washington Professor of Sociology and African American Studies and a Faculty Affiliate at the Institute for Policy Research. She is the author of two award-winning books – Black Picket Fences: Privilege and Peril among the Black Middle Class (University of Chicago Press, 1999) and Black on the Block: The Politics of Race and Class in the City (University of Chicago Press, 2007) – which focus on class stratification, public housing, crime, urban planning, community organizing, and youth culture in African American neighborhoods in Chicago. She is co-editor of Imprisoning America: The Social Effects of Mass Incarceration (Russell Sage, 2004). She has published articles in American Sociological Review, Social Forces, Ethnic and Racial Studies, Journal of Affordable Housing Research, and other journals. She is currently working on research on how families make decisions about neighborhoods, housing, and schools. Pattillo holds an MA and PhD in Sociology from the University of Chicago, and a BA in Urban Studies from Columbia University.
School choice is promoted as one strategy to improve educational outcomes for African Americans. Key themes in Black school choice politics are empowerment, control, and agency. Using qualitative interviews with poor and working-class Black parents in Chicago, Pattillo will speak on the question: How well do the themes of empowerment, agency, and control characterize the experiences of low-income African American parents tasked with putting their children in schools? Also, what kind of political positions emerge from parents' everyday experiences given the ubiquitous language of school choice? In the end, parents' stories convey limited and weak empowerment, limited individual agency, and no control. Their perspectives conjure policy frameworks and political ideologies that require a discussion of entitlements and provision, rather than choice.
March 11
Gentrification & Urbanization
Moderator: Dr. Christopher Oliver
Sophie Day (University of Pennsylvania): "Separated and Unequal: Discriminatory Housing Practices in Chicago and New Orleans"
Joanna Lehrman (University of Michigan): "Un-educating the Academic: Critical Dialogue as a Radical Tool for Liberating the Landscape Architect"
Cate Irvin (Tulane University CCC):"From Pop-up to Permanent: Transforming Urban Space Through Mobile Entrepreneurship"
Charles Miller (University of New Orleans): "Theorizing Race and Space: An Urban Exploration"
Disaster & Reconstruction
Moderator: Dr. Qingwen Xu
Wesley Cheek (Tulane University): "The Road Home? Questioning the Limits of Reconstruction in the Lower 9th Ward"
George Hobor (Louisiana Public Health Initiative): "New Orleans' Remarkably (Un)Predictable Recovery: Developing a Theory of Urban Resilience"
Mary Rose Naoum (University of Michigan): "The Global Empire Manifests as Corporate Power: Transcending the Normative Framework by Restructuring the Story of Detroit"
Isaac Freitas (Tulane University): "Tweet Home Colorado: Twitter, Disaster, and Topic Modeling of the 2013 Colorado Floods"
Equity in Education
Moderator: Dr. Michael Cunningham
Michael R. Scott (The University of Texas at Austin): "Schools as Sites of Institutional Racism"
Danica Brown (Tulane University CCC): "Charter Schools and Conceptions of Success Among African American Youth"
David T. Marshall (Virginia Commonwealth University): "Equity in Charter Schools: Identifying Issues and Solutions"
Akilah Heggs (Georgia State University): "Defining disparity in early childhood education: A content analysis"
Implications of Social Identities
Moderator: Dr. Mimi Schippers
Kristen A. Prock (Michigan State University): "Youth Homelessness in the United States: Historical Perspectives and Policy Evolution"
Clare Cannon (Tulane University CCC): "LGBTQ & Batterer Interventions"
Ijeoma Opara (New York University): "Racism and Intimacy"
Dena Lagomarsino (Tulane University): "Living in the Contradictions: LGBQ Educations and Socially Just Pedagogies"
Justice & Policing
Moderator: Dr. Stephen Ostertag
Jeffrey Sharlein (University of Pennsylvania): "Recognizing and Addressing Disproportionate Neighborhood Contact with the Juvenile Justice System: Towards a Research and Policy Agenda"
Daphney Dupervil (Rutgers University) "Unveiling Ethics In Ferguson"
Karina L. Bull (Tulane University CCC): "In the Dog House: Prescribing Social Control in Animal-Assisted Programs"
Daniela Griffin (Ole Miss)