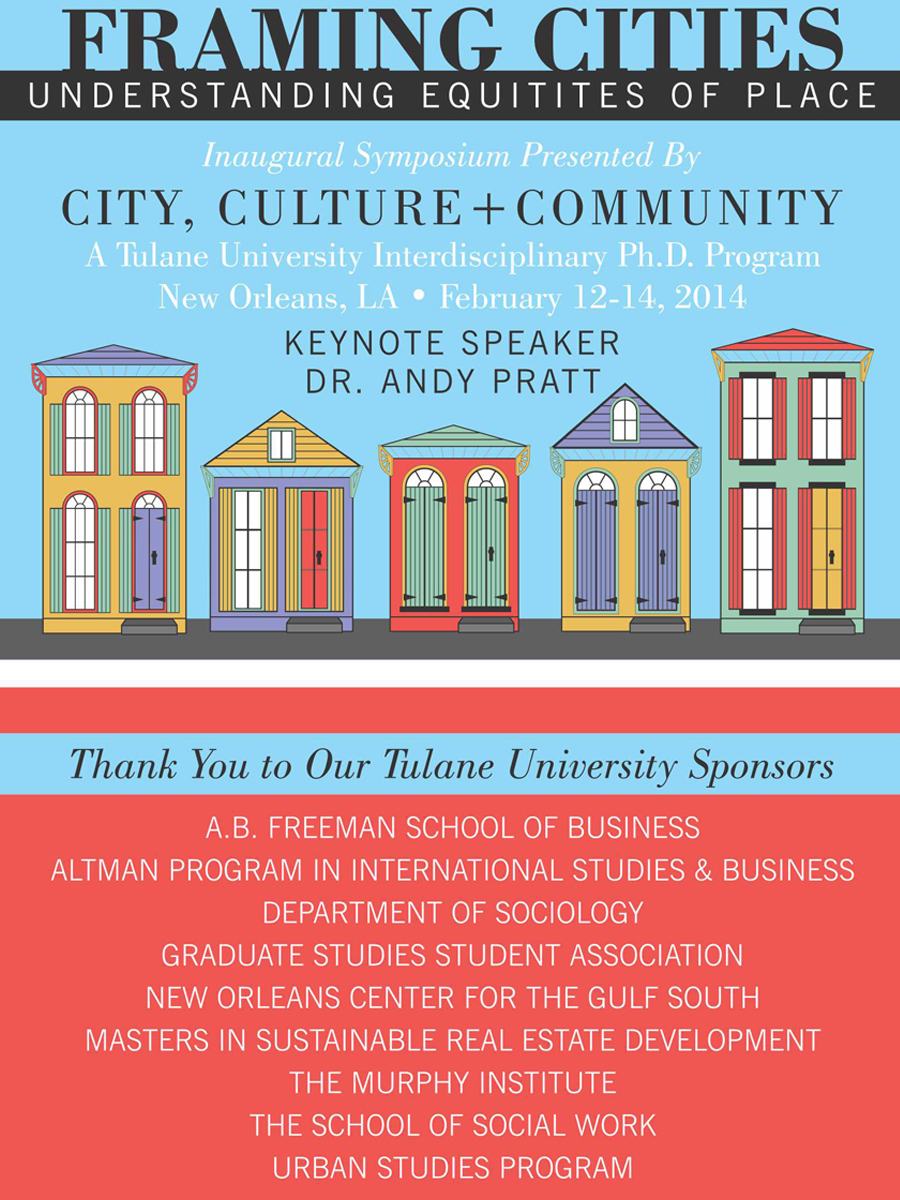 Framing Cities: Understanding Equities of Place&#8212February 12-14
Program
February 12th
Keynote Speaker Dr. Andy Pratt (City University of London)
"Can the Cultural Economy Sustain New Orleans? Global Lessons"
Dr. Andy Pratt is an internationally renowned critical scholar of cultural geography. He has written over 100 peer-reviewed articles and several books on the topic of creative industries and creative economies. He has been an advisor on cultural policy in the UK and a consultant for the quantification of creative economy for the United Nation's Conference on Trade and Development. He recently moved from his post at Kings College, London to direct the newly formed Creative Industries program at City College, London.
February 13th
Discussion with Dr. Andy Pratt (City University of London)
"The Interdisciplinary Scholar: Challenges in Collaboration"
February 14th
Panel 1: "Negotiating Power Differences in Everyday Life"
Moderator: Dr. Elaine Wright (Tulane School of Social Work)
Mary Freyder (Tulane University): "Peer-researchers Unravel Social and Sexual Networks to Improve Sexual Health Programs in New Orleans"
Emily Starr (Tulane University CCC): "The Politics of Gender, Sexuality, and Power though Tending Bar"
Alicia McCraw (Tulane University CCC)
Panel 2: "Whose Culture, Whose Space? Challenges of Representation and Remembrance in Cities"
Moderator: Dr. Amber Wiley (Tulane School of Architecture)
Mark Beirn (Washington University): "Contested Air Space: Civic Identity and Urban Form in Berlin's 3 Airports"
Maille Faughnan (Tulane University): "Dynamic Values and Capabilities in Urban Revitalization of a World Heritage Site: The Case of Casco Antiguo Panama"
Adrian Popan (University of Texas): "The Dead Dragon and the Flies: The Socialist Residential Architecture from Infrastructural Violence to Sustainable Solutions"
Heidi Schmalbach (Tulane University CCC): "Race, Representation, and Memory: The Greenwood District and the Problem with Preservation"
Additional Presenters
Cate Irvin (Tulane University CCC): "Mapping the Spatial Dimensions of Food Trucks: Urban Transformations Through Mobile Outposts of Difference"
Julie Arrington (University of Alabama): "The Reintegration of Alberta City"
Joshua Schoop (Tulane University)